ABOUT US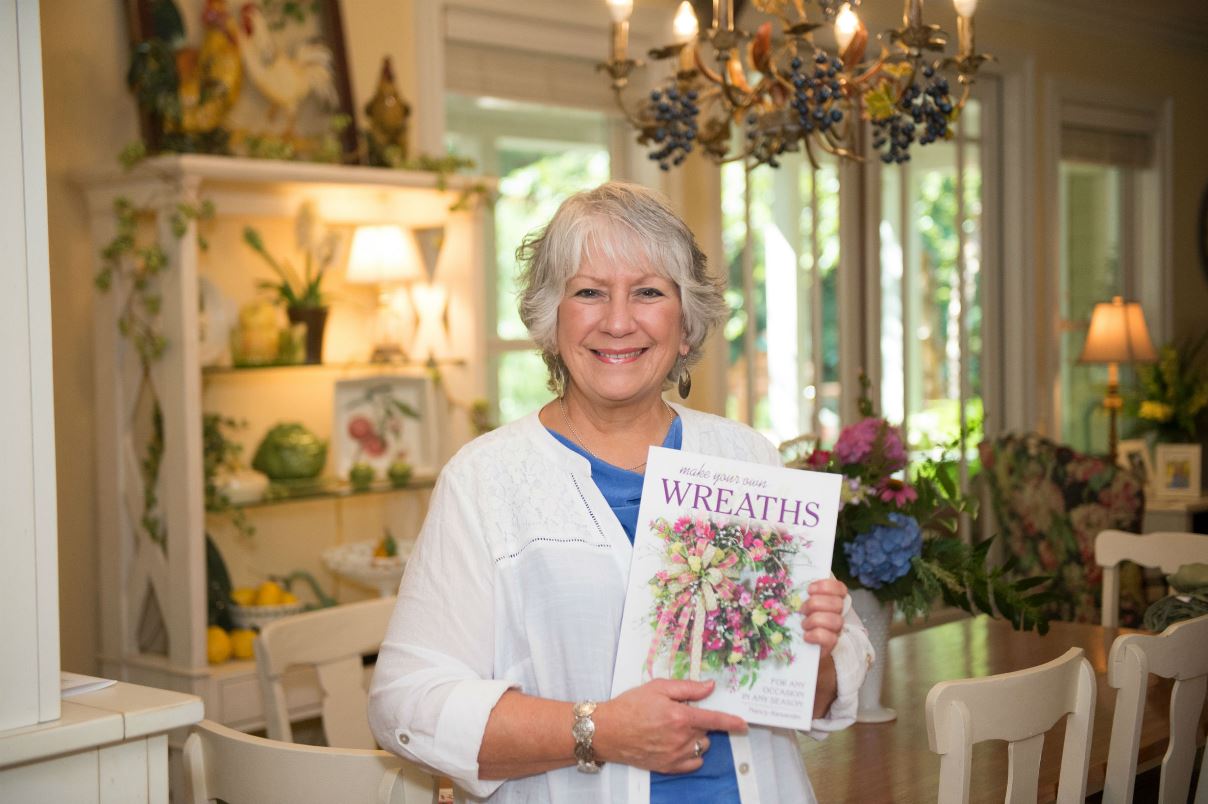 I love decorating indoors for spring!
Transform your winter "blahs" into something beautiful!
Each of you has special niches in your home that draw you to them. You've made it through the cold, drab winter and now it's time to spruce things up a bit. Think about the colors you love the most. Your special colors are cheerful; they make you smile; they warm your heart. Those colors have worked their magic before pulling you out of the "blahs" and lifting your spirits. They're also what invites others into your special niches.
In this newsletter, I want to discuss the colors I use in my favorite spot, my kitchen table…where family and friends gather to enjoy meals and good company! First of all, I'm sure you can tell I like white. I love the brightness of light and have many windows — large ones — along with extra tall doors with plenty of glass. The more light there is in my space, the more my colors seem to "pop."
Right after these photos were made, we closed in our long porch. It is now a sunroom that we love. The whole family enjoys it.
The table you see was one we had a friend to make for us a year or so ago. We made it as long as it could be (7 1/2 ft.)and still fit in my space.
I'm still using my T-back antique chairs. We've had then tightened up and recovered several times. I plan on using them for many years to come. I've never seen others that I enjoy as much as these. Do you notice there are two each of three different styles of chairs here? Most people don't unless you pay close attention to the back of the chairs.
Believe it or not, white shades of paint are hard…there are so many of them out there! I mixed this shade myself and then took a painted piece of cardboard to my favorite paint store to have more mixed. We named it "Granny White" after my favorite great grandmother, Granny White. This is the color used on the legs of my 7 foot table and all the chairs.
Behind my table, you can see my cute display cabinet with glass shelves. I love changing things up and filling it with some of our family treasures. I have a small lamp on the top shelf. When turned on, it shines down through the glass shelves making the colors rich and bright.
There is a mixture of colors, shapes, and items here. A green cabbage bowl with small cabbage salt and pepper shakers was made by me as a teenager. Beside it there is my mother's old yellow Hull pitcher with mini-leaf ivy. (No, it's not arranged…just sitting inside). It is good to use larger plates or platters on plate stands toward the back of some shelves. Yellow lemons falling out of the fruit bowl provide another hue to this collection. Right beside the lemons is a very old aluminum milk carrier which displays my old red-handled kitchen utensils, two antique wooden rolling pins, along with another bunch of ivy.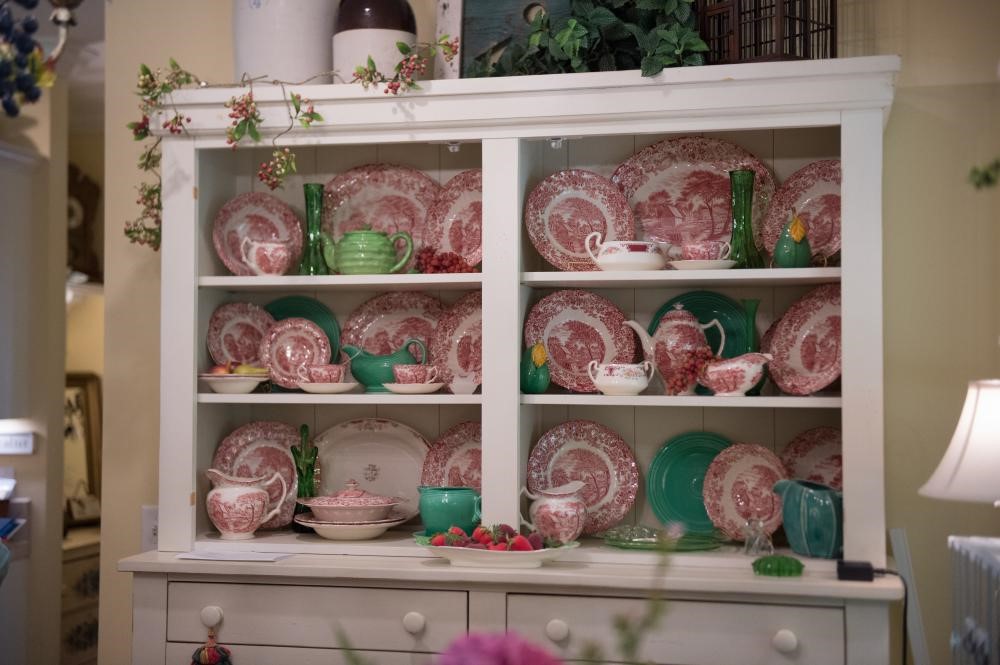 Another "pretty spot" in my kitchen is the china cabinet. I have a friend who retired after being an international airline attendant. After she retired, she was lucky enough to be able to fly to Zurich once a month absolutely free. She knew all of the best "flea markets" and found the rest of my "impossible to find" "Old Mill Stream" red and white china by Johnson Bros.
I want to point out that even though just the china alone would be pretty, the red and white in my white hutch just wouldn't quite have that pizzaz – it wouldn't have "popped." So, I started collecting green to add to this hutch. I just picked up a piece here and there, Fiestaware was given to me for birthdays and other occasions. I have picked up the small, inexpensive green vases at antique malls, and yard sales. You cannot tell, but I have an old butter churn, ivy, and an antique bird cage on top — it looks great!
I now love the way my china shows up along with the greens. I have some grapes nestled in among the dishes, along with some pears and strawberries filling a bowl. Small accents of color can make such a difference in any display in your home. In fact, some of the pieces I have are for their color alone.
Below, you'll see a reflection of the top of my china cabinet in a mirror in my den – a very old one at that!
I bring the style and colors from my kitchen area to the dining area and into our living area.
Have fun with your decorating and with colors! Don't be afraid to try something, even if you've never seen it done before. If you're having fun, those you invite in will feel the happiness and warmth you put into your home. You might just find ideas for new wreaths as you delve into your home projects, as well.